ABOUT US
We are a digital studio that specializes in visual effects, animation and 2D to stereoscopic 3D conversion, employing cutting-edge technology and a staff of highly experienced artists and technicians.
WHO WE ARE
AIC Studios is a vertically integrated group of Canadian companies specializing in the financing, production, post-production and distribution of feature films, television programs and animated series.
Blending innovative technology with inspired artists and producers, AIC Studios is the newest and most energized digital studio in Toronto. Since 2013 AIC Studios has worked on a number of internationally successful films.
WE VISUALIZE THE FUTURE OF CINEMA.
ANIMATION
We combine the latest digital technologies with traditional animation expertise to deliver the highest quality standards in both 2D and 3D CGI feature films. Our uncompromising quality and creative vision have quickly made AIC Studios an audience favorite all over the world.
VFX
AIC Studios' top notch visual effects team produces the latest and most innovative visual effects and CGI in both live action and animation. From pre-production, design, pre-visualization and on-set services to sophisticated composites and detailed digital matte paintings, we help to bring our clients' vision to life.
TEAM
Andrea Iervolino– President
Ferdinando Dell'Omo– COO
Matt Lyon– Creative Director
Peter Nalli– VFX Supervisor
Courtney Wolfson– Production Manager
Char San Pedro– EA to the President/Producer
Meghan Armstrong– Studio Operations Coordinator
James O'Donnell– VP of Business Development
Peter Nykiel– Bookkeeper
FILMS
AMBI LIBRARY TITLES [PDF]
PRESS
JESSICA BROWN FINDLAY, TOM WILKINSON JOIN 'THIS BEAUTIFUL FANTASTIC'
"Downton Abbey" actress Jessica Brown Findlay, Tom Wilkinson (who was Oscar nominated for "In the Bedroom" and "Michael Clayton") and Andrew Scott ("Sherlock," "Pride," "Spectre") have joined the cast of Simon Aboud's "This Beautiful Fantastic," which starts to shoot this week in London.

U.K. DRAMA 'THIS BEAUTIFUL FANTASTIC' MOVES FORWARD WITH NEW FINANCING
Announced on Monday, Andrea Iervolino and rum heiress Monika Bacardi's Ambi Pictures has teamed with Christine Alderson's Ipso Facto production banner to finance and produce the drama, which will be directed by Simon Aboud from his own script.

KERRY BISHE, PETER STORMARE JOIN NOOMI RAPACE'S 'RUPTURE'
Fargo star Peter Stormare, Kerry Bishe, Lesley Manville and Ari Millen (Orphan Black) have joined Noomi Rapace and Michael Chiklis in the sci-fi thriller Rupture from American Sniper producer Andrew Lazar.
'AMERICAN SNIPER' PRODUCER ANDREW LAZAR BOARDS SCI-FI PROJECT
Peter Stormare, Kerry Bishe, Lesley Manville and Ari Millen have joined the cast of sci-fi adventure thriller "Rupture," starring Noomi Rapace and Michael Chiklis.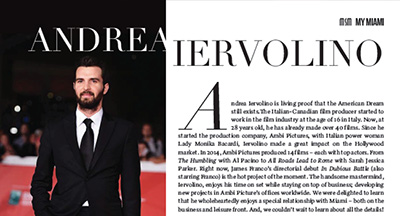 MYMIAMI: ANDREA IERVOLINO IS LIVING PROOF THAT THE AMERICAN DREAM STILL EXISTS.
The Italian-Canadian film producer started to work in the film industry at the age of 16 in Italy. Now, at 28 years old, he has already made over 40 films…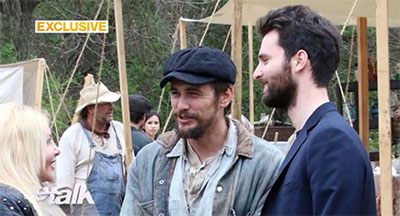 FRANCO & GOMEZ ON-SET WITH MONIKA BACARDI & ANDREA IERVOLINO
On set with Producers Monika Bacardi and Andrea Lervolino of AIC Studios while filming "In Dubious Battle" in Bostwick, GA.
AMBI DISTRIBUTION LINES UP 'ARCTIC JUSTICE: THUNDER SQUAD'
The distribution and sales arm of Andrea Iervolino and Lady Monika Bacardi's AMBI Group will commence sales in Cannes on the CGI family animation boasting the talents of Alec Baldwin and John Cleese.

CANNES: BALDWIN, CLEESE, FRANCO JOIN VOICE CAST ON 'ARCTIC JUSTICE: THUNDER SQUAD'
AMBI Pictures has set a star-studded voice cast for its 3D family feature Arctic Justice: Thunder Squad, to be animated in Toronto by Dimos Vrysellas (Shark Tale, The Prince of Egypt).
CANNES: ABBIE CORNISH, DERMOT MULRONEY TO STAR IN 'LAVENDER'
Abbie Cornish and Dermot Mulroney will star in the psychological thriller "Lavender" from director Ed Gass-Donnelly, with shooting starting later this month in Toronto.
'AMERICAN SNIPER' PRODUCER ANDREW LAZAR BOARDS SCI-FI PROJECT
In a pre-Cannes announcement, "American Sniper" producer Andrew Lazar has come on board science-fiction thriller "Rupture" with Steven Shainberg directing.
ALL-STAR VOICE CAST SET FOR 'ARCTIC JUSTICE: THUNDER SQUAD' FEATURE
John Cleese, Alec Baldwin, James Franco, Anjelica Huston, Heidi Klum and Omar Sy board AMBI Pictures' 3D CGI animated family film 'Arctic Justice: Thunder Squad,' directed by veteran animator Dimos Vrysellas.

AMBI'S 'ARCTIC JUSTICE' SIGNS A-LIST VOICES
Canadian indie AMBI Pictures has starting singing on a slew of top talent to lend their voices to its 3D CG-animated family adventure feature Arctic Justice: Thunder Squad. Confirmed cast includes Alec Baldwin, John Cleese, James Franco, Anjelica Huston, Heidi Klum and Omar Sy.
CLIENTS
PROUD SPONSORS OF
AIC Studios: The Future of Cinema
Whether it is a blockbuster movie or an animated short, cinema fans will never run out of things to enjoy. The cinematic landscape has evolved over the years and there is no denying that technology paved the way for more enthusiasts to take part in the tradition.
AIC Studios is a humble digital studio that specializes in animation, visual effects, and production. We recruit only the most dedicated and talented artists and technicians, giving them opportunities to showcase their wide range of skills in the name of cinema.
The tradition of cinema has long been passed down to generations of visionaries. The AIC Studios team wouldn't have picked up projects in the industry without the creative genius of our employees. From production to distribution, our success is forever indebted to the artists who bring the stories from our studio to life.
There is no other city that screams 'innovation' than Toronto. The city is a significant hub for the film industry, both domestically and internationally. This is why we decided to become a melting pot of creativity and innovation for young filmmakers, producers, and animators.
Visual effects is also our speciality. If you wish to learn more about the projects that we have produced, feel free to explore our website or give us a call through our hotline. You can find our contact details on our Contact Us page.
Our associated companies
AIC Studios is proud to be an integration of several Canadian companies under the umbrella of AMBI Canada. The associated companies are:
AMBI Pictures
AMBI Distribution
AMBI Group
As a holding company, we aim to provide the best possible resources and manpower for blockbuster films in the industry.
Career Opportunities
Are you looking for opportunities to work in the film and animation industry? We've got you covered. Head on over to our Careers page to learn more about the open job positions. We certainly look forward to welcoming new skilled artists and technicians to the company.
While we accept resumes through our portal, we may also ask for a comprehensive art portfolio should the position that you are applying for requires it. We do not condone and falsification of information and personal details in the application process. Should we find any issue with your application, we will contact you and the authorities for proper handling of the situation.
Film animation and production is not easy–this is why we recruit the best of the best! Highly skilled artists and technicians are welcome to apply. Even with ample experience, we hope to provide aspiring employees with opportunities to grow further into the industry of their choice.
If you have any questions or concerns regarding the company, our portfolio, and contact details, please feel free to get in touch with us. Head on over to the Contact Us page for more details.